IPNA supports the World Kidney Day
IPNA wants to promote education and screening in children with kidney diseases all over the world. Kidney Day is a wonderful opportunity to achieve this goal.
Each year, IPNA organises a contest to encourage such an action by providing USD 5,000 to the pediatric nephrology center(s) from a developing country throughout the World.
→ Learn more about the World Kidney Day
WORLD KIDNEY DAY 2021
Living well with kidney disease is more than a theme for World Kidney Day, is the goal that everyone who cares for little kidneys everywhere must pursue.
In order to promote education and prevention of kidney disease and its progression but also the support for patients and care-partners of children with kidney disease, IPNA offers a grant to the best project(s) for IPNA 2021 World Kidney Day.
We therefore encourage you to apply and help us to promote this actions in our communities.
Florencio McCarthy
IPNA World Kidney Day Committtee Chair
Deadline to apply was on February 15. 

 WORLD KIDNEY DAY 2020
Two winning projects:
1. Dr. Girish Bhatt, Bhopal, India
Title of the project: Educating parents and children together for prevention of kidney diseases
Aim of the project:
1) To raise awareness among nursing students about early preventive strategies for kidney diseases through slogan/painting competition/skits.
2) To organize health talks in outpatient department of hospital and nearby schools
3) To screen for blood pressure in school children
4) To organize talent show for children with kidney disease
2. Dr. Dr. Azmeri Sultana, Dhaka, Bangladesh
Title of the project: SAARC Pediatric Acute Kidney Injury Consortium- Prospective study on incidence and risk factors for 'Severe Pediatric AKI' – Achieving 0 by 25
Aim of the project:
1 .To develop a research agenda for ascertaining the epidemiologic characteristics of severe pAKI across SAARC nations.
2. To establish a multinational prospective pAKI database and determine the specific locoregional risk factors and associated outcomes amongst SAARC nations

WORLD KIDNEY DAY 2019
We received a growing number of applications for IPNA-sponsored WKD initiative.
All projects were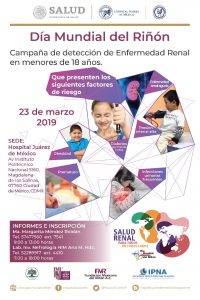 excellent, so selecting one was very challenging. The winner of the WKD 2019 IPNA initiative is Dr. Alfonso Huante from Mexico.
Aim of the winning project: To increase the awareness of kidney disease and help two main objectives: 1) To use strategies for early detection of kidney disease among general physicians and/or pediatricians and also to bring knowledge to people to empower them together with improving kidney disease networking and 2) to increase interest in pediatric residents and medical students to get them involved in pediatric nephrology as a medical career in clinical and research fields.
More projects and activities to build the awareness about little kidneys around the world:
Learn how World Kidney Day was celebrated in China here
IPNA supports the World Kidney Day
<<
Mar 2021
>>
Mon
Tue
Wed
Thu
Fri
Sat
Sun
1
2
3
4
5
6
7
8
9
10
11
12
13
14
15
16
17
18
19
20
21
22
23
24
25
26
27

27/03/2021 - 30/03/2021
Glasgow

28

27/03/2021 - 30/03/2021
Glasgow

29

29/03/2021 - 02/04/2021
Taipei
29/03/2021 - 31/03/2021
27/03/2021 - 30/03/2021
Glasgow

30

29/03/2021 - 02/04/2021
Taipei
29/03/2021 - 31/03/2021
27/03/2021 - 30/03/2021
Glasgow

31

29/03/2021 - 02/04/2021
Taipei
29/03/2021 - 31/03/2021

1

29/03/2021 - 02/04/2021
Taipei

2

29/03/2021 - 02/04/2021
Taipei

3
4