Health Volunteers Overseas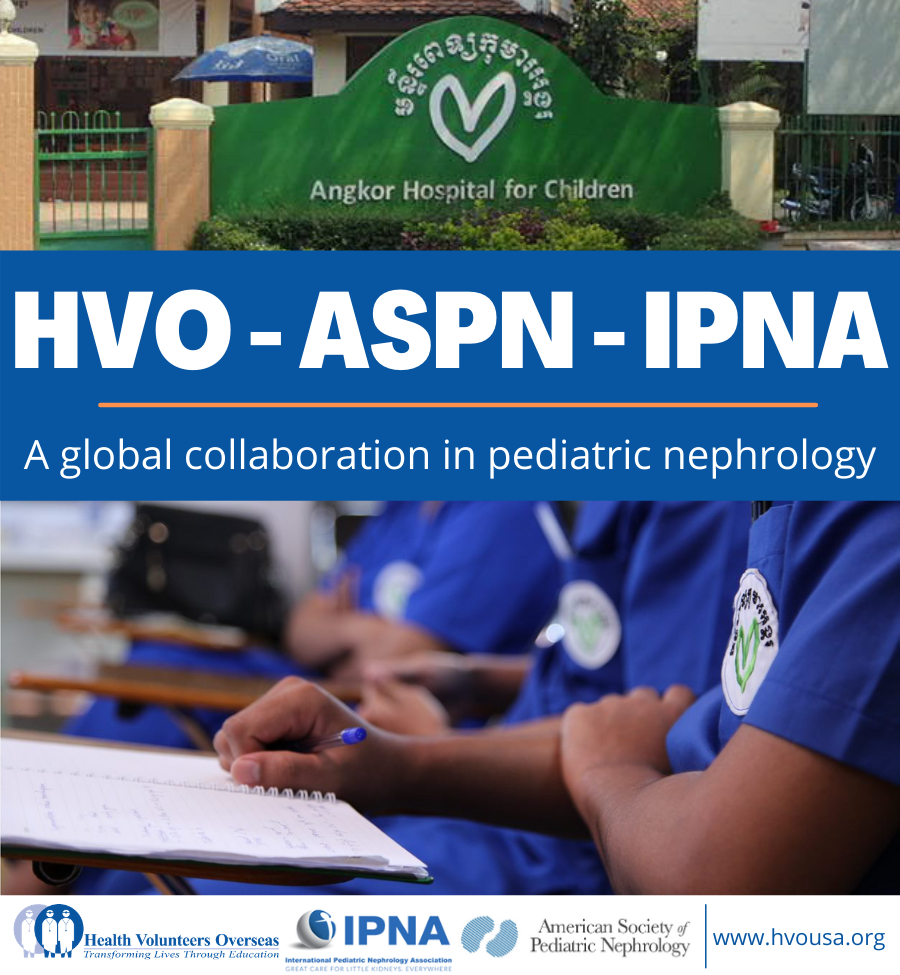 In partnership with the American Society for Pediatric Nephrology (ASPN) and the International Pediatric Nephrology Association (IPNA), Health Volunteers Overseas (HVO) is developing an exciting new initiative to support pediatric nephrology education and training in low-resource settings.
This partnership has three goals:
To support the mission of ASPN Committee on Global Health to increase opportunities for ASPN members to participate in pediatric nephrology education, clinical care, mentorship, and research in low resource settings;
To enhance the visibility of pediatric nephrologists as global health workers and volunteers; and
To meet HVO's nephrology-specific educational and clinical needs at existing clinical sites through didactic and bedside teaching, clinical care, mentorship, quality improvement, and professional development.
We are currently seeking nephrologists with an interest in e-volunteering (virtual lectures, online case discussions) at Angkor Hospital for Children (AHC) in Siem Reap, Cambodia.
HVO is an organization committed to building health worker capacity through the teaching and training of health professionals in resource-scarce countries. The success of HVO projects is dependent on volunteers who donate their time and expertise to train their colleagues around the world. For more information, please contact info@hvousa.org.
Learn more: www.hvousa.org
Health Volunteers Overseas
<<
Oct 2021
>>
Mon
Tue
Wed
Thu
Fri
Sat
Sun
27
28
29
30
1
2
3
4
5
6
7
8
9
10
11
12
13

12/10/2021 - 13/10/2021
13/10/2021 - 17/10/2021
Mexico City

14

13/10/2021 - 17/10/2021
Mexico City

15

13/10/2021 - 17/10/2021
Mexico City

16

13/10/2021 - 17/10/2021
Mexico City

17

13/10/2021 - 17/10/2021
Mexico City

18
19
20
21
22
23
24
25
26
27
28
29

26/10/2021 - 29/10/2021
29/10/2021 - 30/10/2021

30
31