Get involved on IPNA Committees
One of our tactics in the IPNA Strategic Plan is to develop a process whereby  IPNA members can become members of an   IPNA Committees. Following the formation of several  new committees  at the  Congress in Venice, we are happy to make this opportunity available to you.  Please see the link below for the list of the committees.
General requirements:
Active Member of IPNA
Health professional with Pediatric Nephrology as your focus
Fluent in English
Willingness to commit effort to achieve committee goals
Term for each Committee position is 3 years, assessed annually based on participation, cooperation and communication.
How to apply:
Applications are closed now. Please check this page for an update in 2021.
For further questions please contact office@theipna.org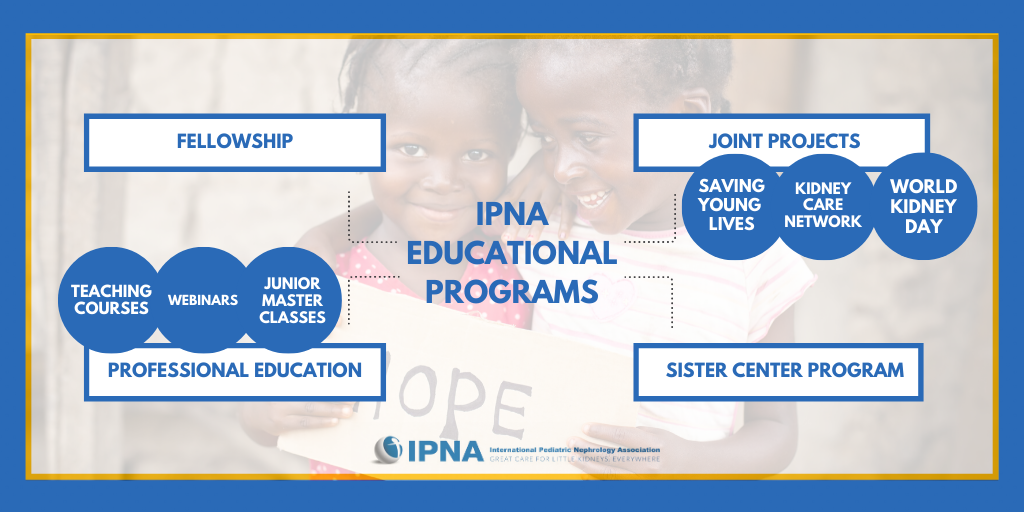 <<
Sep 2021
>>
Mon
Tue
Wed
Thu
Fri
Sat
Sun
30
31
1
2
3
4
5
6
7
8
9
10
11
12
13
14
15
16

16/09/2021 - 19/09/2021
Amsterdam

17

16/09/2021 - 19/09/2021
Amsterdam

18

16/09/2021 - 19/09/2021
Amsterdam

19

16/09/2021 - 19/09/2021
Amsterdam

20
21
22
23
24

24/09/2021 - 08/10/2021
22/09/2021 - 30/10/2021

25

24/09/2021 - 08/10/2021
25/09/2021 - 26/09/2021
22/09/2021 - 30/10/2021

26

24/09/2021 - 08/10/2021
25/09/2021 - 26/09/2021
22/09/2021 - 30/10/2021

27

24/09/2021 - 08/10/2021
22/09/2021 - 30/10/2021

28

24/09/2021 - 08/10/2021
22/09/2021 - 30/10/2021

29

24/09/2021 - 08/10/2021
22/09/2021 - 30/10/2021

30

30/09/2021 - 01/10/2021
24/09/2021 - 08/10/2021
22/09/2021 - 30/10/2021

1

30/09/2021 - 01/10/2021
24/09/2021 - 08/10/2021
22/09/2021 - 30/10/2021

2

24/09/2021 - 08/10/2021
02/10/2021 - 03/10/2021
22/09/2021 - 30/10/2021

3

24/09/2021 - 08/10/2021
02/10/2021 - 03/10/2021
22/09/2021 - 30/10/2021